Saturday, September 19, 2015
Posted by

Mechadude2001
at 9:00 PM
No comments:


Friday, September 18, 2015
Dwayne "The Rock" Johnson and his longtime love, singer/songwriter Lauren Hashian, are expecting a baby.
"I was so fortunate to have fallen in love once," Johnson, 43, told PEOPLE in 2012. "To fall in love again? That's a hard thing to do twice in the position I'm in. I'm one lucky son of a b—-."
Johnson and singer-songwriter Hashian, 30, have been together since around the time of his separation. They've lived together for "eight, nine years" he told Esquire in June.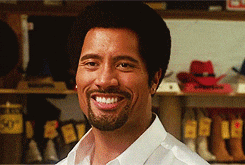 Personally, I hope he has a son. I'd love to see those genes imbued in a male for the next generation to swoon over.
Posted by

Mechadude2001
at 8:00 AM
No comments:


Labels: abs, actor, animated gif, Be Cool, biracial men, butt, Dwayne Johnson, guns, legs, Pain and Gain, pecs, perfect, smile, Superman, tattoo, The Rock, thighs, wet
Where Ya At?